Burns Chronicles No 52
Will Kullman (Nighthawk) #2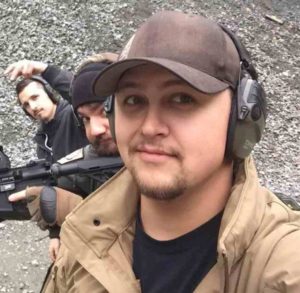 Gary Hunt
Outpost of Freedom
December 30, 2016
I have been contacted by a number of people who were contacted by Kullman, after the "Burns Chronicles No 51 – William "Will" Kullman (Night Hawk)"went out. His line to them is that I (Hunt) am a BATF agent. Heck, that accusation goes back to 1993, and in all of that time, nobody has been able to provide any substance to that accusation. That just shows how cheap talk is.
I have also been provided a copy of a text conversation from back in September, about the time the Portland Trial, Ammon Bundy, et al, began. So, we will begin with that text conversation. I have indicated Kullman's comments with K and the other participant as S. This discussion took place before and during the trial that began on September 7, 2016.
SEP 4 AT 10:08 PM
K:  I'm going to Portland for the Bundy trials. Will you be there
SEP 21 AT 5:46 PM
S:  Dude… People are freaking out your like McConnell… is this true?
K:  Excuse me?
S:  Ya. Everyone is telling me you were buddy buddy with him and you mysteriously left last week after they showed your picture. I'm not saying it that's not me… it paranoia all over again… someone said you are testifying for the prosecution. Blah blah blah… figured you would want to know
K:  First and foremost before the Bundys before the trials before any of this Mark and I Marine brothers just like John Ritzheimer and our bond is before everything else. Period. I have no idea what you mean by showing my picture I left on Thursday afternoon because I had trial myself here in Washington Friday morning for my son in custody. I'm not testifying for anybody and I risked a lot going to the courthouse, and because I was in Portland for a week and didn't see my son before my trial I end up losing custody of my son so I sacrificed to be there don't lump me in with Jason Blomgren just because he squealed like a pig.
Note that he mentions Ritzheimer, claiming that their "bond is before everything else." This was brought up in " Burns Chronicles No 51 – William "Will" Kullman (Night Hawk)", when Kullman told Peltier to tell Ritzheimer, "Semper Fi!"
Now, we will jump to the end of the next discussion, which took place on Facebook. The initial discussion began on the day that LaVoy Finicum was murdered, January 26, and concluded on the next day. The conversation picks up again on December 28, 2016. It is this last portion that we will begin with. This is the day that the first Kullman article was published.
8:23 pm [December 28, 2016]
Friend:  Not sure what is going on but you are being tagged in the Patriot community as an informant against the refuge guys.  Outpost of Freedom has evidence and has written an article against you.  What the hell is going on?  I trusted you
8:37 pm
Kullman:  I'm not sure.  I was just told of it.  And haven't finished reading the article myself
I don't know how they would come to that conclusion, I'm one of the biggest patriots in this state and make it known because I'm proud of who I am.
8:39 pm
Friend:  I've been hit up by the armchair warriors stalking my page that keep pming me telling me how terrible I am that we are "friends" on fb…but I can't find your name on my list.  Strange.  Gary Hunt called you for your input but you hung up on him.  What the hell is going on?
Continue reading 'Burns Chronicles No 52 – Will Kullman (Nighthawk) #2' »