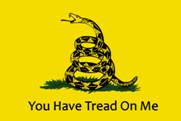 #4
Under One Banner
What have some people said about the You Have Tread On Me - Petition?
- - - - -
This is an excellent idea and a well written petition.-- E. F.
- - - - -
Having only read the first page, it is fantastic, -- D. M.
- - - - -
Thank You! This is absolutely brilliant!! I hope this will go viral and we will soon be hearing of its impact! -- T. D.
- - - - -
Your petition is the best I've ever seen... -- A. H.
- - - - -
I don't know who wrote these up, but I think they're great. Obviously, someone put a lot of time and effort in the writing. -- R.
- - - - -
and, finally, my favorite:
WHOOOPPEEEEE! Finally a *petition* I can endorse and participate in. Readers know that I have nothing to do with any on-line petition as they are a waste of energy and they do NOTHING!!!! except make folks 'think' they have done something and then they can go back to their snoozing. Having been deeply involved in political offices over my years I know that all those things just get a glance as they are tossed to the side. Original signatures are the only thing that counts to a politician - not internet characters.
I hope readers will read the following and then ACT on it. We have their attention right now but DO NOT sit back and let the fire die out. The enemy is now recruiting at the colleges for *activist youth who haven't had to earn their way yet and will be taken in by the printed worthless money offered for their time.
After you have read this and done your part please send this to all you can - also print it off and hand it out at your meetings and leave copies on tables at the coffee shop. Post it on your message boards and web sites.....
Better to fire off this kind of weapon now because I do believe that the firing of another kind is not far down the road.
Jackie Juntti - WGEN
- - - - -
Have you taken the time to read the You Have Tread On Me - Petition?
Perhaps your willingness to doing so will result in rewards that we can hardly envision, today.

Click Links, Below:
return to You Have Tread On Me - main page
Go to the Petition

You Have Tread On Me