Freedom of the Press #14
Telephonic Hearing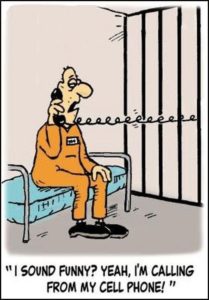 Gary Hunt
Outpost of Freedom
April 19, 2017
In my previous article, "Freedom of the Press #13 – Sojourn to Sacramento", I mentioned the telephonic hearing held on Thursday, April 6, leading to my release, just a few hours later.  Prior to the hearing, it was set in stone, by Magistrate Brennan, in Sacramento, that I would not arrive in Portland until April 25.  This fits the schedule for "diesel therapy" (where the run you all over the country, in a sense, punishing you for being accused of a criminal act), which would take me to Oklahoma, then to Pahrump, Nevada, and then on to Portland over a period of twenty-five days.  The hearing, however, forestalled that tour of the West.  What led up to that hearing is the subject of this article.
I was self-arrested at my home and transported to Sacramento, California, on Thursday, March 30.  Judge Anna Brown was apprised of the arrest on Thursday, shortly after I was arrested.  I will describe the events as I lived them and provide pertinent entries from the Ammon Bundy, et al case in Oregon, Docket reports.
03/30/2017 [ECF#] 2051
ORDER On March 10, 2017, the Court entered a Sealed Order # 2017 Granting Government's Request for Arrest Warrant as to Gary Hunt. On March 30, 2017, the government advised the Court that Gary Hunt has been taken into custody pursuant to this Court's arrest warrant. Accordingly, because there is no longer any need to maintain under seal the Court's Order # 2017 , the Court directs the Clerk to unseal Order # 2017 Granting Government's Request for Arrest Warrant as to Gary Hunt. Ordered by Judge Anna J. Brown. (pvh) (Entered: 03/30/2017)
On March 30, Judge Brown knew that the Warrant had been served.  Now, as I understand from my Federal Public Defender, Douglas Beevers, on Tuesday, April 4, Judge Brown had been waiting to be notified that I had arrived in Portland.  Apparently, she expected me to be in Portland on Monday.  When she contacted the US Marshal Service, they told her that I was being held in Sacramento.  Apparently, she had been advised that I would be arriving on April 25, via the diesel route.
. Continue reading 'Freedom of the Press #14 – Telephonic Hearing' »